Nam June Paik is considered by many to be the inventor of video art.
Nam June Paik links in honor of his exhibition at the Asia Society until Jan 4, 2015
Comprehensive list of works and full bio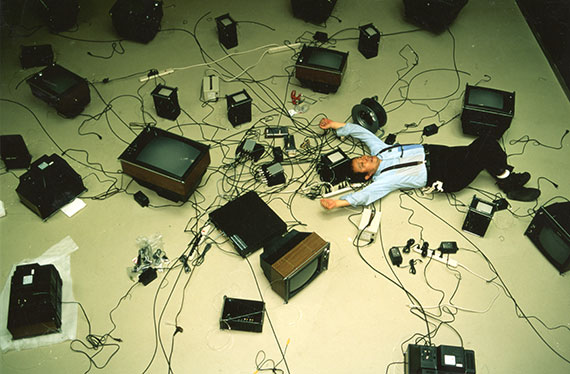 VIDEO LINKS
Great short video discussing how Nam June Paik predicted the Internet Age
Good Morning Mr. Orwell
(Initially broadcast on New Year's Day, 1984)
Nam June Paik's rebuttal to Orwell's dystopian vision of 1984, is the first international satellite installation by Video Art pioneer Nam June Paik. Paik's transcultural satellite extravaganzas links different countries (France, Germany, US), spaces, and times in often chaotic but entertaining collages of art and pop culture, the avant-garde and television. Paik saw Good Morning Mr. Orwell as a rebuttal to Orwell's dystopian vision of 1984.
>> More Info on project from Asia Society
MORE RESOURCES
Nam June Paik website has a good overview essay on Paik's work, The Worlds of Nam June Paik by John Hanhardt, former film and video curator at the Whitney and Guggenheim and is now the Smithsonian American Art Museum's video-art curator.
Nam June Paik and Modern Technology Timeline